October-December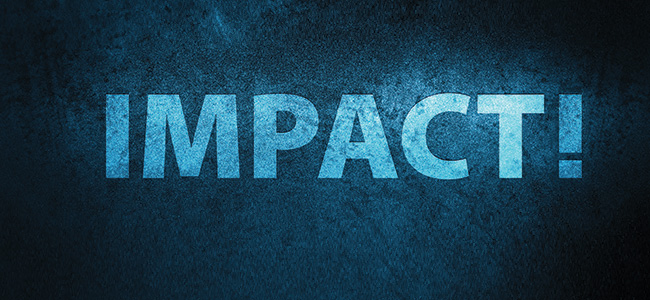 Impact!
So what about you? Have you thought about the kind of impact that you could make or are making? At this vital time in your lives the world could seem vast and daunting, yet it is filled with endless opportunities. Now you may ask: "How could I make such an earth shattering change when I am so young?" Let's take a look at youth in the Bible that God has used.
Daniel
George Washington wisely stated, "Let us with caution indulge the supposition that morality can be maintained without religion. Reason and experience both forbid us to expect that national morality can prevail in exclusion of religious principle." This rings true in the case of Daniel, the young Hebrew. We are all quite familiar with the story of Daniel and his friends, who were taken from their homeland and sent to Babylon. Unlike the other young men who were also taken, Daniel and his three friends, Shadrach, Meshach and Abednego, refused to indulge themselves by partaking of the same food as the rest of the members of the royal court. In doing so, these young men stood up for their principles and captured the attention of the king.
"What if Daniel and his companions had made a compromise with those heathen officers, and had yielded to the pressure of the occasion by eating and drinking as was customary with the Babylonians? That single instance of departure from principle would have weakened their sense of right and their abhorrence of wrong." (Councils on Health, p. 65, 66.)Thus, a simple act of practicing temperance in appetite had a great impact on even the rulers of the land. (Daniel 1:1-21.)
David
David, the son of Jesse, had his humble beginnings as a shepherd before he went on to become the second king of Israel. He is also known for his various talents; he is known to have been a skilled musician, an experienced warrior, a prominent psalmist, and a loyal friend. Though he possessed various talents and was an excellent king, David faced a plethora of temptations and succumbed to many of them. While David's life is blemished with transgressions, it is evident that he loved God and truly longed to serve Him to his fullest ability. It is also evident through his properly chronicled life that through earnest self-examination and fervent prayer we all can attain forgiveness. He is also known to be the ancestor of Jesus. Acts 13:22 states, "I have found David the son of Jesse, a man after mine own heart, which shall fulfil all my will." Looking at David's life, today's society might consider him to be a flawed individual. Yet, David's name is mentioned Hebrew 11:32-34 among the faithful: "And what shall I more say? For the time would fail me to tell of Gedeon, and of Barak, and of Samson, and of Jephthae; of David also, and Samuel, and of the prophets: Who through faith subdued kingdoms, wrought righteousness, obtained promises, stopped the mouths of lions. Quenched the violence of fire, escaped the edge of the sword, out of weakness were made strong, waxed valiant in fight, turned to fight the armies of the aliens."
Joseph
Imagine growing up in a house with ten other siblings who were older, stronger, and more experienced. Joseph was the eleventh son of Jacob, but the first son of Rachel. Much to his brothers' discontent, Jacob's love for Rachel earned Joseph a special place in his father's heart. This quickly triggered envy and animosity, due to Joseph's dreams depicting his older brothers' bowing down to him in subservience. Being sold into captivity to Egyptians by one's own brothers would prove to be a tragedy in anyone's life, but Joseph chose instead to follow in the footsteps of his forefathers. "Joseph's checkered life was not an accident; it was ordered of Providence."—Spiritual Gifts, vol. 3, p. 174.
In Potiphar's house, in prison, in the presence of the Pharaoh, and finally his reacceptance of his brothers prove that through trust in God and abstaining from erroneous behavior Joseph was a shining light and an instrument in the saving of a nation.
"Joseph's real character shines out, even in the darkness of the dungeon. He held fast his faith and patience."— Ibid.
Women
We are all familiar with stories about young men in the Bible and the great things they have done that impacted history, but what about women? "Favour is deceitful, and beauty is vain: but a woman that feareth the Lord, she shall be praised" (Proverbs 31:30).
Esther
Esther is considered by many to be the epitome of Biblical heroines—she was young, beautiful, loyal, kind, faithful, powerful, and a princess who saved the lives of her people. Orphaned at a young age, she was raised by her cousin Mordecai. She was eventually taken, along with other eligible young women in the kingdom, to be presented to the king to choose a new queen. Among the hundreds of other women, Esther clearly made an impression on the King's mind and soon became the queen. Through the help of Mordecai, she even saved the life of the king by revealing news of an attempted assassination. When Haman, a high ranking advisor to the king, plotted to exterminate the Jews, an alarmed Esther requested the aid of her friends and people to pray and fast with her for three days before appearing before the king uninvited. Bravely proclaiming, "And if I perish, I perish" she went before the king and by cleverly requesting his presence at a banquet, she was able to disclose Haman's secret plans and save the Jews.
"A study of women's work in connection with the cause of God in Old Testament times will teach us lessons that will enable us to meet emergencies in the work today. We may not be brought into such a critical and prominent place as were the people of God in the time of Esther; but often converted women can act an important part in more humble positions. This many have been doing, and are still ready to do." —Special Testimonies, Series B, p. 15.
Abigail
There are quite a few prominent women in the Bible that stand out for various reasons. Very little is known about Abigail, yet she is one such woman who, through her clever thinking and piety, saved the life of her husband and others. While encamped, David and his men provided protection to Nabal's flocks of sheep and cattle. When provisions were requested by David's men during a celebration, Nabal not only refused but also mocked them. Enraged, David set out with his men to destroy Nabal. Abigail's servant went to her with this new information and with her quick thinking she was able to gather together food and other offerings to appease David's wrath and save the life of her husband.
It is clear that Abigail was a clever woman of virtue who was trusted and beloved by her servants that they trusted her to have the wisdom to take quick actions with such tragic news. She was courageous, prudent, resourceful, and quick to action. In that moment, when her husband's selfishness created a need for her to flee for her life, she remained behind and saved the life of not only her husband, but also the whole household. "With nothing of ostentation or pride, but full of the wisdom and love of God, Abigail revealed the strength of her devotion to her household […] Abigail did not take to herself the credit of this reasoning to turn David from his hasty purpose, but gave to God the honor and the praise […] In the character of Abigail, the wife of Nabal, we have an illustration of womanhood after the order of Christ."—Daughters of God, p. 42.
The Woman at the Well
While on their way from Jerusalem to Galilee, a very exhausted Jesus rested at Jacob's well while His disciples went to the village of Sychar to buy food. A Samaritan woman came at midday to draw water at the well. This was quite peculiar, as it was uncommon for women to come to draw water at the hottest time of day. Much to the woman's dismay and against all local customs, this Jewish man decided to talk to her; even more shockingly he asked her for water. This startling introduction paved the way for a life-changing conversation. Upon realizing the immensity of the truth she had just heard, she rushed back to the village to enthusiastically inform the town's people and bring them the source of all truth. Jesus remained with them for two days—"And many more believed because of his own word; And said unto the woman, Now we believe, not because of thy saying: for we have heard him ourselves, and know that this is indeed the Christ, the Saviour of the world" (John 4:41, 42). "She proved herself a more effective missionary than His own disciples […] But through the woman whom they despised a whole city full were brought to hear Jesus. She carried the light at once to her countrymen. This woman represents the working of a practical faith in Christ." —The Ministry of Healing, p. 102.