Knowing God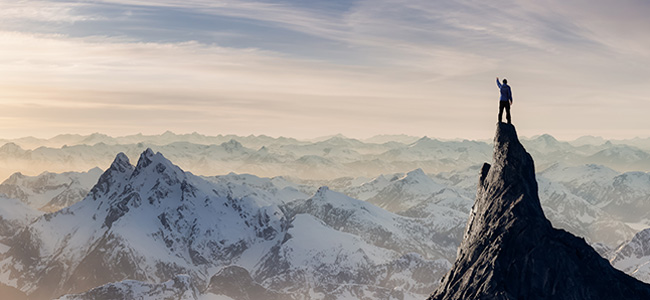 Sunday, December 10, 2023
Knowing God Eternal
Not long ago, there was a young man who grew up in a small island village surrounded by the vast Pacific Ocean. He became a highly skilled carpenter and soon established his carpentry business, doing work ranging from crafting furniture to constructing modest houses. The young man also had a hardworking younger brother who trained and later graduated as a school teacher. They both became very successful in their professions and were a great source of pride and joy to their family. Their success, however, became a source of envy in the hearts of their fellow villagers. A jealous few propagated malicious rumors throughout the village that the siblings' source of success allegedly stemmed from their father's involvement in some form of witchcraft.
During this conundrum, the young man's life was exposed to sinister demonic influences. He would be continuously harassed and haunted by a conspicuous "man" dressed in dark clothes who constantly followed him—day and night. Simultaneously, a strange disease began to afflict him which caused him to lose all vision in his left eye. Feeling justified by the predicament—that the young man's suffering was an obvious punishment from God (and because of an overflowing sense of prior jealousy, bitterness and envy), the villagers mobbed them and burnt their family house to the ground. They lost everything and the young man was banished from the village. Despite being exiled, he was followed by that baleful spirit wherever he went.
In his desperation to be free from that satanic spirit, the young man cried to the Lord for deliverance.
It just so happened that he became reacquainted with an old associate whom he later knew as a church elder for one of the oldest Seventh-day Adventist churches in the main city. His friend shared the Sabbath truth and other biblical doctrines with the young man. The Bible-based explanations of these topics convicted him and led to deep soul-searching regarding the Christian beliefs he had previously held. This led to his eventual baptism and regular attendance at his friend's church in the city.
In what could only be attributed to fury and deeply rooted antagonism towards this development, the demonic spirit doubled its attacks on the young man and now toward his family, too. This persisted despite his being a member of the church for 5 years and even becoming a deacon. His situation was so dire that the demon would, at times, be sitting in the last church pew, observing every single thing he did while he ministered from the front. No one could see the ominous visitor except him. This draining experience further deepened a heartfelt desire for deliverance from these demonic encounters and drove the young man deeper into a relationship with God. His time was deeply spent in regular fasting, praying, and studying the Bible.
As a result, he gradually started changing various habits in his life. A notable one was changing his typical diet to being fully plant-based after being instructed by a missionary in a dream. Crediting nothing else but divine providence, the young man heard that there happened to be a similar church just a five-minute walk away from his house. The only catch was that they called themselves the "Seventh Day Adventist Reform Movement" (SDARM), and that some of their fundamental beliefs were not 100% aligned to the current positions of the church in which he was a deacon. Yet he decided that he would try and visit it the next Sabbath.
Sensing this decision, the demonic attacks increased in severity and regularity during Preparation Day (Friday) and Sabbath morning. What was supposed to be a mere five-minute walk to this church was one of the most trying times of this man's life as the demon did all in its finite power to drive him into a mental breakdown, to relinquish his purpose. However, the main gate of the church appeared in the young man's impaired vision and with Jacob-like prayer, he made it through. . . .
An unfamiliar feeling of freedom flooded his heart as he saw the path leading to the open church door with the Sabbath school class going underway. The sight of the little ones and the youth in their own separate classrooms and the familiar sing-along songs gave this particular Sabbath day a different experience. As he walked forward, an ever-so-familiar voice called his name. Hearing the words as cold as a heart absent of the love of Christ and as sinister as a murderous being, the young man turned to face the source of this voice. It was that sinister being. His words were cold; his words were simple. Standing outside the gate like a restrained dog but with dark eyes that gave a piercing glare into the young man's soul, the evil spirit said, "This is a true church. I will leave from here and should you ever leave this church, I will meet you again." Disregarding what that spirit said, the young man walked into the church. The young man did not take this seriously as he was always followed by that demonic spirit, even into his previous church. A few minutes later, being curious as to where his unwelcome companion was, he turned to view the back area of the small SDARM church. Sure enough, that spirit was nowhere to be found.
From that day on, he decided to leave his previous congregation and join the SDARM church. Even after returning home after the Close of Sabbath services, there was no sign of the demonic spirit. After so many years, he was able to enjoy the most refreshing sleep—free from demonic harassment. After further Bible study, acquainting himself with the fundamental beliefs of the church, he got baptized and is now a deacon in his local SDARM church. This life experience, he says, has led him to appreciate a bit more the love and Providence of God and to know more of Him. It led him to see how it is only through a closer relationship with Christ and a surrender to His Providence that one can overcome. That it is only through Christ, that one can have life—both in this world and the world to come. All this, he believes, is embodied into one particular verse: "And this is life eternal, that they might know thee the only true God, and Jesus Christ, whom thou hast sent" (John 17:3).
This article will dive into the significance of this verse to the believer and what it means "To Know God Eternal":
To know
The phrase "to know" is used in a train of thought or a sentence to show or express the idea that there is a certain idea or truth that is highly applicable to a particular situation. For instance, "to know" how to chop onions without crying is a handy skill to have—especially if you don't want a vegetable to be the reason for your tears. We see here that that particular knowledge is highly applicable to that particular situation.
With this in mind, we can ask ourselves the following two-part question: "What does Christ want us to know?" and "To what does it apply?"
Based on John 17:3, the answer is quite simple.
Knowledge Aspect: Know God and Jesus Christ.
Result Aspect: Gain eternal life.
Understanding now the result of gaining that knowledge, i.e., know God, we then must focus on the commentary from the Bible and Spirit of Prophecy.
God eternal
When we know someone, we are expected to be familiar with everything possible regarding that person apart from commonplace things. For example, what are their preferences, what are their stances regarding particular issues; what are their "pet peeves" and what are their temperaments. Essentially, we are expected to be more familiar with the heart issues of that person compared to the superficial knowledge someone else may have.
So many are the errors and misconceptions surrounding the correct understanding of God and Who He is that many have gone astray. Nevertheless, disregarding the inundation of error regarding this essential knowledge, the Bible gives us the "black and white" of the matter.
What knowledge then can the Bible reveal to us regarding the intimate affairs of God?
One of the very first instances of the Bible making this plain to us comes from the very mouth of God in Exodus Chapter 34. It tells us:
"And the Lord passed by before [Moses], and proclaimed, The Lord, The Lord God, merciful and gracious, longsuffering, and abundant in goodness and truth, keeping mercy for thousands, forgiving iniquity and transgression and sin, and that will by no means clear the guilty; visiting the iniquity of the fathers upon the children, and upon the children's children, unto the third and to the fourth generation" (Exodus 34:6, 7).
We see here the character traits of God—the intimate aspects of God's life that sets Him apart from any other god. Come to think of it, it is amazing and yet intellectually unfair that the Infinite, Eternal Creator of the universe summarizes all there is to know about Him in a few lines and yet He did this so that finite, evil man could even come, at best, to a superficial knowledge of Him.
It is also interesting that to gain the proper knowledge of God and Who He is, we, like Moses, are to be hidden in the "cleft of the Rock" (Exodus 34:5).
It is said of Christ regarding that specific imagery of the "Rock" in another experience of Moses that "that Rock was Christ" (1 Corinthians 10:4). Thus we see here that a "not-so-obvious" requirement to knowing and appreciating God is to first be led to Christ. It is only then that we can truly "see" God.
Christ Himself comments on this in John 14:6 where He plainly states: "I am the way, the truth, and the life: no man cometh unto the Father, but by me" (John 14:6). He also plainly states while talking to the self-righteous Jews who were going about trying to make their way to Heaven by their misguided interpretation of God's Word: "Search the scriptures; for in them ye think ye have eternal life: and they are they which testify of me" (John 5:39).
The Spirit of Prophecy tells us:
"It was when Moses was hidden in the cleft of the rock that he beheld the glory of God. It is when we hide in the riven Rock that Christ will cover us with His own pierced hand, and we shall hear what the Lord saith unto His servants. To us as to Moses, God will reveal Himself as 'merciful and gracious, long-suffering, and abundant in goodness and truth, keeping mercy for thousands, forgiving iniquity and transgression and sin.' Exodus 34:6, 7."1
As mentioned before, obtaining this knowledge of God is something that truly would take eternity to unravel. Yet, God, in His mercy, gives us what we need right now for our salvation in His Word. He plainly tells us: "The secret things belong unto the Lord our God: but those things which are revealed belong unto us and to our children for ever, that we may do all the words of this law" (Deuteronomy 29:29)—most particularly in the example of Christ.
The writing in the sand
A particular instance, I believe, that encapsulates this is the experience of Christ and the woman brought before Him by the Pharisees for condemnation as found in John 8.
The chapter starts off by stating that Christ, after going to the Mount of Olives, returned to the temple only to be met by the scheming Pharisees with what they were hoping to be a "gotcha!" question.
"And the scribes and Pharisees brought unto him a woman taken in adultery; and when they had set her in the midst, they say unto him, Master, this woman was taken in adultery, in the very act. Now Moses in the law commanded us, that such should be stoned: but what sayest thou?" (John 8:3–5).
Compared to other situations where He encountered these defamation attempts, the response of Christ was rather telling.
"This they said, tempting him, that they might have to accuse him. But Jesus stooped down, and with his finger wrote on the ground, as though he heard them not" (John 8:6).
Possibly growing irate, the accusers pressed Him again with their line of questions until Christ responded with a simple, yet soul-searching question before stooping down again to continue His mysterious writing.
"He that is without sin among you, let him first cast a stone at her" (John 8:7). The effect of Christ's words and actions deeply convicted and rebuked all those present as John writes that "they which heard it, being convicted by their own conscience, went out one by one, beginning at the eldest, even unto the last: and Jesus was left alone, and the woman standing in the midst" (John 8:9).
At last, Christ, upon finishing His Masterful Authorship of sheets of sand "lifted up himself, and saw none but the woman, he said unto her, Woman, where are those thine accusers? hath no man condemned thee?" (John 8:10).
What must He have written? That we may never know until we reach eternity with His grace. But what we do know next summarizes this whole experience for us.
Responding to His question, "She said, No man, Lord. And Jesus said unto her, Neither do I condemn thee: go, and sin no more" (John 8:11).
I believe that this story is one of many that shows all we need to know about God and Christ with regard to life eternal (John 17:3).
Life eternal
Ever since the fall of humanity, we have had a constant hope promised to us for our deliverance. The deception of the serpent was rebuked in the words, "I will put enmity between thee and the woman, and between thy seed and her seed; it shall bruise thy head, and thou shalt bruise his heel" (Genesis 3:15).
This "seed" referred to here—Christ, carried out that work in His earthly ministry and it is here that we see the redeeming love that, as undeserving as we are, God freely gave.
In a direct sense, all of humanity is represented by the condemned woman of John 8. Accused of sin by the devil of sin, we rightly deserve to pay its penalty—death (Romans 6:23), and yet, God made a way. It is only by obtaining a knowledge of His plan of redemption that one can make the choice to either accept and be saved or reject and ultimately be lost.
However, knowing God's expressed will from His Word, He does not want anyone to be lost.
Pleading with the Israelites, God says, "Cast away all your transgressions . . . for why will ye die, O house of Israel? For I have no pleasure in the death of him that dieth, saith the Lord God: wherefore turn yourselves, and live ye" (Ezekiel 18:31, 32).
It was to give us a knowledge of God and His infinite love for us that Christ came to this world, died, and rose again. It is through the ministry of the Holy Spirit that we are equipped to be led into all the truth—that we then may have a chance to make the choice to live.
" 'This is life eternal,' Christ said, 'that they might know Thee the only true God, and Jesus Christ, whom Thou hast sent' (John 17:3). And the prophet Jeremiah declared: 'Let not the wise man glory in his wisdom, neither let the mighty man glory in his might, let not the rich man glory in his riches: but let him that glorieth glory in this, that he understandeth and knoweth Me, that I am the Lord which exercise loving-kindness, judgment, and righteousness, in the earth: for in these things I delight, saith the Lord' (Jeremiah 9:23, 24). Scarcely can the human mind comprehend the breadth and depth and height of the spiritual attainments of him who gains this knowledge."2
"In giving us His word, God has put us in possession of every truth essential for our salvation. Thousands have drawn water from these wells of life, yet there is no diminishing of the supply. Thousands have set the Lord before them, and by beholding have been changed into the same image. Their spirit burns within them as they speak of His character, telling what Christ is to them, and what they are to Christ. But these searchers have not exhausted these grand and holy themes. Thousands more may engage in the work of searching out the mysteries of salvation. As the life of Christ and the character of His mission are dwelt upon, rays of light will shine forth more distinctly at every attempt to discover truth. Each fresh search will reveal something more deeply interesting than has yet been unfolded. The subject is inexhaustible. The study of the incarnation of Christ, His atoning sacrifice and mediatorial work, will employ the mind of the diligent student as long as time shall last; and looking to heaven with its unnumbered years he will exclaim, 'Great is the mystery of godliness.' "3
We note that we are to understand and know the Lord who exercises loving-kindness, judgment and righteousness, is eternal. In light of this we must teach the knowledge of God and His standard to our children. As we compete with the cares of this life for time to teach our children, we need to seek God's guidance to intervene in a divine manner so we can duly carry out the task.
"Teach the Knowledge of God.—To know God is eternal life. Are you teaching this to your children, or are you teaching them to meet the world's standard? Are you getting ready for the home that God is preparing for you? . . . Teach your children of the Saviour's life, death, and resurrection. Teach them to study the Bible. . . . Teach them to form characters that will live through the eternal ages. We must pray as we never have before that God will keep and bless our children."4
Conclusion
David considered the faithfulness of the Lord to all generation and exclaimed in Psalm 100:5, NIV: "For the Lord is good and his love endures forever; his faithfulness continues through all generations." And again as last books in the Bible, Revelation we are reminded again of the eternity of God. "I am Alpha and Omega," says the Lord God, "which is, and which was, and which is to come, the Almighty" (Revelation 1:8). Through Jesus, we are able to have eternal life. He died, His blood cleansed our sins and through this gift by knowing Him we may have eternal life. "For the wages of sin is death; but the gift of God is eternal life through Jesus Christ our Lord" (Romans 6:23).
"Had silver and gold been sufficient to purchase the salvation of men, how easily might it have been accomplished by Him who says, 'The silver is Mine, and the gold is Mine' (Haggai 2:8). But only by the precious blood of the Son of God could the transgressor be redeemed. The plan of salvation was laid in sacrifice. The apostle Paul wrote, 'Ye know the grace of our Lord Jesus Christ, that, though He was rich, yet for your sakes He became poor, that ye through His poverty might be rich' (2 Corinthians 8:9). Christ gave Himself for us that He might redeem us from all iniquity. And as the crowning blessing of salvation, 'the gift of God is eternal life through Jesus Christ our Lord' (Romans 6:23)."5
"Now to the King eternal, immortal, invisible, the only wise God, be honour and glory for ever and ever" (1 Timothy 1:17). Amen.
References:
1
Christ's Object Lessons, p. 162.
2
The Acts of the Apostles, p. 531.
3
Christ's Object Lessons, p. 133.
4
Child Guidance, p. 494.
5
The Acts of the Apostles, p. 519.