Knowing God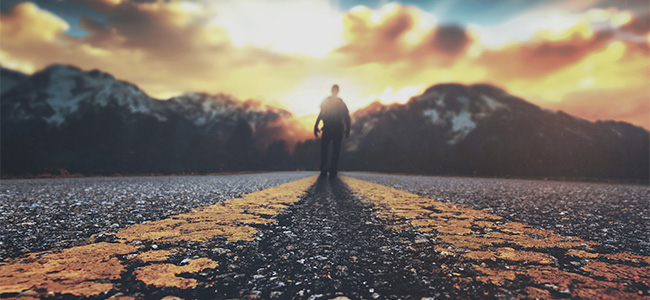 Friday, December 8, 2023
Meeting the Saviour
It was in the summer of 2021 that I met the happiest person I have ever seen in my life. I was visiting a newly formed group in McAllen, Texas, one of the southernmost cities in U.S., within minutes from the border with Mexico. A brother had started a radio ministry, sharing the Gospel at a local radio station, and many people called and asked to be visited or asked for Bible studies. One of them was Mr. Guadalupe, a man in his sixties of Mexican origin. At the time of my visit, Mr. Guadalupe had been attending our church services on a regular basis and had completely transformed his life. He had gladly accepted the Sabbath and his new lifestyle reflected his new and deeper understanding of the scriptures. He had a constant smile on his face and his joy when talking about Jesus was contagious. I never heard from him a word of sadness or concern, and by all possible measures he was a truly happy man.
Now, in our day-to-day encounters, we see people who seem happy all the time, and we don't think there is anything unusual about it. It is not necessarily a spectacular thing to be happy when we are in good health, or when we have loving families, or when we make a comfortable living.
If we were to make a list of the happiest people, we might be tempted to put the people who can have anything that money can buy, at the top of the list. Also, those who have seemingly perfect lives with no illness to struggle with, and no financial or family problems, or those whose lives seem perfect in every possible way.
However, Mr. Guadalupe's happiness did not come from having such a perfect life, but rather was happy in spite of his enormous trials and hardships. He was dying of cancer, and as the doctors had told him that he would be dead the year before, he was now living on borrowed time. He had a colostomy bag attached to his belly and a tumor the size of a grapefruit was protruding from the side of his neck. He was breathing through his tracheostomy, a tube in his neck, which he had to cover with his finger in order to be able to talk. He was living by himself in a modest studio apartment and had no family to visit him. Unable to have a job, he depended on people's generosity to have food on the table and to pay his rent.
From a human point of view, he had absolutely nothing in this world that could give him comfort and security, and yet he was telling everyone that he is not sad, but he is happy. But he didn't have to mention it for anyone to know that he was a happy man. You could read it on his face, his conversations, his behavior.
Most people may have some kind of happiness when everything goes well in their life, but Brother Guadalupe had a happiness and peace which transcended his physical and earthly trials. Having a similar experience, the apostle Paul said, "Therefore I take pleasure in infirmities, in reproaches, in necessities, in persecutions, in distresses for Christ's sake: for when I am weak, then am I strong" (2 Corinthians 12:10).
How?
How is it possible to have such peace, in the midst of a storm of tribulation? How is it possible to "rejoice always" (1 Thessalonians 5:16), even when apparently bad things come our way? Brother Guadalupe had a secret, which he gladly told everyone. Like the apostle Paul, he had met the Saviour, and that was a turning point in his life, as he was never to be the same again.
Our greatest need
Before the glorious meeting with the Saviour, the apostle Paul had a journey of his own. The truth is, we all have our own journeys, and we look for happiness and fulfillment in various places. Some will turn to the world seeking worldly pleasures and trying everything that this world has to offer. The story of the prodigal son is being relived all too often in so many youth who are tired of religion's "restrictions." Others, like the apostle Paul, may seek God in various doctrines and belief systems, but may find themselves just as far from God as the man drinking in the tavern. Whichever way we choose apart from God, in the end will have the same consequence. All the effort that we make in seeking earthly pleasures and satisfaction in self-designed ways will turn out to be nothing but a two-fold tragedy: "For my people have committed two evils; they have forsaken me the fountain of living waters, and hewed them out cisterns, broken cisterns, that can hold no water" (Jeremiah 2:13).
We were created to be filled with heavenly peace, as we live in perfect harmony with the Creator. When this connection is lost, nothing else in this world can satisfy the thirst of the soul. True peace and happiness cannot be obtained through anything this world has to offer. On the other hand, when we have met our Saviour and our connection with the Almighty is restored, nothing in this world can take away our heavenly peace, which passes all understanding. "Who shall separate us from the love of Christ? shall tribulation, or distress, or persecution, or famine, or nakedness, or peril, or sword?" (Romans 8:35). And this makes God to be humanity's greatest need.
How badly do we need God, and what are we without Him? What is the best we can do on our own, without God, and how far does He have to stoop, to reach and restore us, and "establish our goings"? (Psalm 40:2.) The life and experience of the apostle Paul is a great example of before-and-after meeting the Saviour.
Working for the enemy
There are not many better examples of abuse of trust. Countries of this world have a severe punishment for those who commit acts of treason. The act of Judas in betraying Jesus has made the traitor's name to be received with repulsion everywhere in the world. When we think of people who are in the service of Satan, we may be thinking of satanists, demoniacs and other openly evil beings. But whenever we act in opposition to the character of God, we are in the service of the enemy and are just as desperately lost as was Judas through the betrayal kiss. Before his conversion, the apostle Paul was working against the eternal Kingdom. More clearly yet, "in persecuting the followers of Jesus he had in reality been doing the work of Satan."1
If we are not marching in God's ranks, we are not on neutral ground, for there is no such thing in the spiritual kingdom. It is actually tantamount to fighting alongside the great archenemy and being among his subjects. After his conversion, the apostle Paul wrote about our previous walks of life: "And you, that were sometime alienated and enemies in your mind by wicked works . . ." (Colossians 1:21). [Emphasis added.]
Our condition is even more wretched if we, like Paul, do so while thinking we are serving God, because "none are more hopelessly enslaved than those who falsely believe they are free," 2 and the wretchedness of Laodicea is exponentially amplified by thinking that he is "rich, and increased with goods, and have need of nothing," and knows not that in reality he is "wretched, and miserable, and poor, and blind, and naked" (Revelation 3:17).
Without God, all our work is in vain. Before meeting Jesus, Paul's best efforts in serving God was an abomination of which he was remorseful for the rest of his life: "And last of all he was seen of me also, as of one born out of due time. For I am the least of the apostles, that am not meet to be called an apostle, because I persecuted the church of God" (1 Corinthians 15:8, 9).
Paul was honestly mistaken. He did not intentionally or knowingly, work against God; on the contrary, he thought he was doing God a service. But that did not change the fact that he was exactly where Satan wanted him to be and do. His zeal for his exacting and legalistic religion has led him to punish and hurt people and to use force and intimidation as a supposed means of evangelism. Such methods come straight from Satan's tool box, and have no place in advancing God's kingdom.
Giving up our "gains"
Saul of Tarsus was a devoted Jew who wanted to do that which is right. "Circumcised the eighth day, of the stock of Israel, of the tribe of Benjamin, an Hebrew of the Hebrews; as touching the law, a Pharisee. Concerning zeal, persecuting the church; touching the righteousness which is in the law, blameless" (Philippians 3:5, 6). In his own eyes, he was in the right denomination, attending the right church, practicing the right rituals, having the right doctrine and being full of zeal. He had all the worldly reasons to be proud of his achievements, and yet relying on all these which were "gain" to him (Philippians 3:7) was incompatible with Christ. While these "gains" would have made any Jew to be proud, Paul understood later on that the only thing worthy of being boastful about is the cross of Jesus: "But God forbid that I should glory, save in the cross of our Lord Jesus Christ, by whom the world is crucified unto me, and I unto the world" (Galatians 6:14).
While all those things were not necessarily bad things, as long as he trusted in them for his salvation, he could not have Christ. God only accepts service and obedience that is motivated by love—everything else is just "sounding brass, or a tinkling cymbal" (1 Corinthians 13:1). If those things are hindering us from fully accepting and trusting in the Saviour, then by all means, let us "count all things but loss for the excellency of the knowledge of Christ Jesus, my Lord" (Philippians 3:8).
"Counting all these things as loss" was not considered a sacrifice by the apostle Paul. Once he had tasted and seen that the Lord is good, all his previous "gains" paled, in comparison; or to use Paul's words, they became to him as "dung" (Philippians 3:8). The man who found the treasure hidden in the field was not at all sorrowful for having to sell "all that he had" to buy that field, because his joy of finding the treasure was far too great (Matthew 13:44).
What do we ever have to give up for Christ? Only those things that make us "wretched, and miserable, and poor, and blind, and naked" (Revelation 3:17), and our own "righteousness," as valuable as "filthy rags" (Isaiah 64:6).
Wanting to do good
Wanting to do good is important. But "wanting" is not enough, for there is a natural law within us that keeps us slaves to sin just as the law of gravitation keeps us down on earth: "I find then a law, that, when I would do good, evil is present with me" (Romans 7:21).
I vividly remember an experience I had as a teenager. I was visiting my grandparents in northeastern Romania, and I was sent to the neighbors to borrow a gardening tool. When I arrived at the neighbor's gate, it was morning, and the neighbor was just releasing their two piglets from the stables and into the big yard full of green grass. As soon as they got out, the piglets started to run in one direction, as fast as they could, and didn't stop until they reached the small puddle of mud that was in one corner of the yard. They started to lie in that puddle and turn all around in it with an indescribable excitement and until they were full of mud all over! All this didn't take more than 20 seconds and when it was over, fully satisfied with their achievement, they went to eat.
Sin is as deeply rooted in our nature as was the desire for mud in these two little piglets. The Bible invites us to ponder, "Can the Ethiopian change his skin, or the leopard his spots? then may ye also do good, that are accustomed to do evil" (Jeremiah 13:23). Sin has so much invaded our whole being, that escaping from its bounding chains takes much more than human strength—it takes the very power of God Himself. And this is what Paul found in the gospel: "I am not ashamed of the gospel of Christ: for it is the power of God unto salvation to every one that believeth" (Romans 1:16). [Emphasis added.]
The meeting
The beauty of the gospel is that God knows our condition, and He still wants us. He sent His Son in this world so that both the drug addict and the self-righteous churchgoer can be rescued from their deadly entanglements and brought into the kingdom of grace, where God "worketh all in all" (1 Corinthians 12:6). Despite our enmity against Him, and "when we were yet without strength, in due time Christ died for the ungodly" (Romans 5:6). Jesus did not just die for us when we started to get better, or at least when He saw that we were making efforts to obey Him, but "when we were enemies, we were reconciled to God by the death of his Son, much more, being reconciled, we shall be saved by his life" (Romans 5:10).
Meeting Jesus is more than a simple random encounter. It is intentional on God's part. He seeks us, He finds us, and He knocks at the door of our heart, trying to get our attention. Sometimes He talks to us through a Bible verse, or a friend, or a pamphlet. Other times, maybe through an event, whether we perceive it good or bad. He spoke to Saul of Tarsus in an audible voice on the way to Damascus, and the Lord spoke to him through his blindness, and this is what he learned:
ALL things work together
"And we know that all things work together for good to them that love God, to them who are the called according to his purpose" (Romans 8:28). It is easy to understand and accept that good things work together for our good. But there is nothing extraordinary in that, while our God is an extraordinary God, who can do extraordinary things. The apostle Paul wrote here that God makes not just the good things to work together for our good, but all things, and that includes the "bad" things. When he first met the Saviour, he became blind. What a tragedy—to have been able to see, and then to be in complete darkness. And yet while completely blind, he had the best vision he had ever had in his life. He saw that he was not self-sufficient, he saw that he was "dead in trespasses and sins" (Ephesians 2:1). Despite his external "obedience," he saw that he was in desperate need of a Saviour. Notice the transformation this experience brought him. He was not anymore that ferocious persecutor of the church, but a gentle student, willing to learn and to know God in His true magnificence.
Sometimes Christians will experience events perceived as "bad." But from a simple flat tire to a life-threatening disease, God can make all things work together for our eternal good. What remains for us is to thank Him for ALL things He allows to happen in our lives, and to trust that He has everything under control. "In every thing give thanks: for this is the will of God in Christ Jesus concerning you" (1 Thessalonians 5:18).
Meeting the Saviour is a process of sanctification, performed by God, as we open our hearts to the warming rays of His love. "And the very God of peace sanctify you wholly" (1 Thessalonians 5:23). It is a daily surrender and submission of our entire being to the sovereignty of love. It is discovering every day more and more of the magnitude of God's love, which is His very nature (1 John 4:7). It is learning to trust in Him through our daily toils and difficulties, knowing that if we have entrusted ourselves in His arms, He has full control of all events in our lives. Meeting the Saviour is knowing Him more and more to the point where we can receive peace and joy even in difficulties. "Most gladly therefore will I rather glory in my infirmities, that the power of Christ may rest upon me. Therefore I take pleasure in infirmities, in reproaches, in necessities, in persecutions, in distresses for Christ's sake: for when I am weak, then am I strong" (2 Corinthians 12:9, 10).
"For the disheartened there is a sure remedy—faith, prayer, work. Faith and activity will impart assurance and satisfaction that will increase day by day. Are you tempted to give way to feelings of anxious foreboding or utter despondency? In the darkest days, when appearances seem most forbidding, fear not. Have faith in God. He knows your need. He has all power. His infinite love and compassion never weary. Fear not that He will fail of fulfilling His promise. He is eternal truth. Never will He change the covenant He has made with those who love Him. And He will bestow upon His faithful servants the measure of efficiency that their need demands."3
"In the darkest days, when appearances seem so forbidding, fear not. Have faith in God. He is working out His will, doing all things well in behalf of His people. The strength of those who love and serve Him will be renewed day by day. His understanding will be placed at their service, that they may not err in the carrying out of His purposes.
"There is to be no despondency in God's service. Our faith is to endure the pressure brought to bear upon it. God is able and willing to bestow upon His servants all the strength they need. He will more than fulfill the highest expectations of those who put their trust in Him."4
Whatever it is that we go through, we have His assurance: "I will never leave thee, nor forsake thee" (Hebrews 13:5), and "the trial of [our] faith, being much more precious than of gold that perisheth, though it be tried with fire, might be found unto praise and honour and glory at the appearing of Jesus Christ" (1 Peter 1:7).
It is our privilege today to meet our Saviour. He is accessible to each and every one of us, no matter how far we are from Him in our rebellion. Today He extends His hand to us, having already paid in full the ransom for our iniquity. If we accept it, He will uproot every trace of sin from us, and replace our heart of stone with a heart filled with His love. Our lives will never be the same, and we will be every day of our saved life, happy in the service of the King.
"It is peace that you need—Heaven's forgiveness and peace and love in the soul. Money cannot buy it, intellect cannot procure it, wisdom cannot attain to it; you can never hope, by your own efforts, to secure it. But God offers it to you as a gift, "without money and without price" (Isaiah 55:1). It is yours if you will but reach out your hand and grasp it. The Lord says, "Though your sins be as scarlet, they shall be as white as snow; though they be red like crimson, they shall be as wool." Isaiah 1:18. 'A new heart also will I give you, and a new spirit will I put within you.' Ezekiel 36:26."5
References:
2
The Acts of the Apostles, p. 115.
3
Prophets and Kings, pp. 164,

165

.
4
Testimonies for the Church, vol. 8, pp. 10,

11

.
5
Steps to Christ, p. 49.