Stewards in the Last Days (II)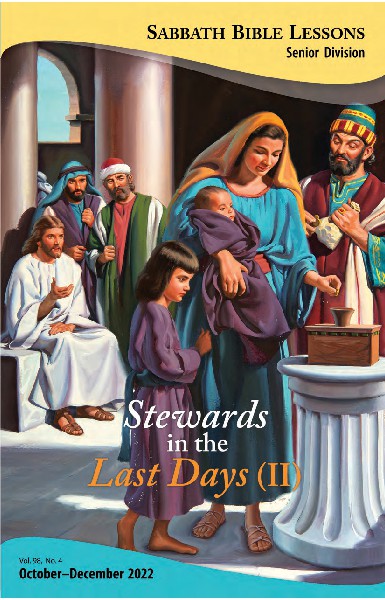 Foreword
We are running out of time! For nearly 180 years, this old planet has been ripe for Christ's return in the clouds of glory. What should be our focus at this late hour? Surely the heavenly Canaan—and how to prepare ourselves and others to be there.
Our topic of study for this quarter is a continuation of Stewards in the Last Days. While on earth, Jesus met a man who claimed to have kept all Ten Commandments from his youth. "Jesus beholding him loved him, and said unto him, One thing thou lackest: go thy way, sell whatsoever thou hast, and give to the poor, and thou shalt have treasure in heaven: and come, take up the cross, and follow me" (Mark 10:21).
Are we laying up treasure in heaven? Or, like the rich young ruler, may we be outwardly keeping the Ten Commandments while lacking true heart service for the Master? All that God has given us belongs to Him, and we must make provision for this before our probation closes. Yet, "without obedience and unselfish love, the richest offerings are too meager to be presented to the Possessor of all things" (Testimonies for the Church, vol. 3, p. 57). It is God's purpose that His children overcome selfishness and fulfill His plan for the evangelization of the earth. He is now preparing a people to do this work—and it will be done whether or not everyone takes hold of the privilege of being involved.
"God calls for men to give the warning to the world that is asleep, dead in trespasses and sins. He calls for freewill offerings from those whose hearts are in the work, who have a burden for souls, that they shall not perish, but have everlasting life. Satan is playing the game of life for the souls of men. He is seeking to secure means, that he may bind it up, so that it shall not be used in advancing the missionary enterprises. Shall we be ignorant of his devices? Shall we allow him to stupefy our senses?"—Ibid., vol. 6, p. 446.
"For what shall we hoard up treasures? To be swept away by the flames of the last day? Shall we lay up gold and silver, to be a witness against us in the Judgment–to eat our flesh as it were fire? Shall we cling to our possessions till they fall into the hands of our enemies? The time is coming when commandment keepers can neither buy nor sell. Of what use will houses and lands, bank stock and merchandise, be to us then? Now is the time to place our treasures where they will be eternally secure. . . . That which we give to the cause of God becomes our own forever. Says Christ, 'Lay up for yourselves treasures in heaven' [Matthew 6:20]. These alone, of all that we possess, are really ours. All that we lay up on earth, we must leave at last. It is only what we give for Christ that we can take with us into the eternal world."—The Review and Herald, December 6, 1887. [Author's italics.]
The General Conference Sabbath School Department