The Gospel According to Paul: Galatians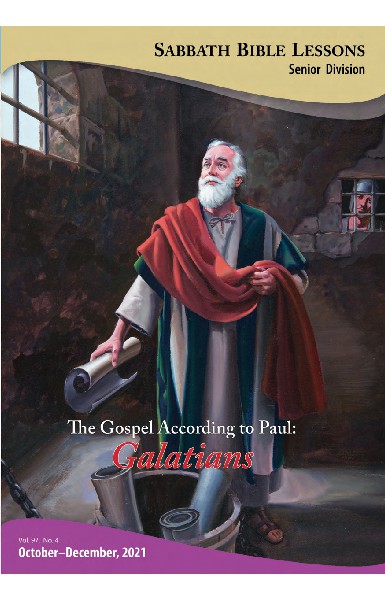 Foreword
This quarter, Sabbath school students around the world will be studying about the gospel according to Paul as revealed in his epistle to the Galatians. What can we learn from this brief, yet powerful epistle?
"[In Galatia,] many taught that it was necessary to observe the Jewish customs and ceremonies; that a mere observance of the law, without faith in the blood of Christ, was sufficient for salvation."—The Acts of the Apostles, p. 553.
"Paul pleaded with those who had once known in their lives the power of God, to return to their first love of gospel truth. With unanswerable arguments he set before them their privilege of becoming free men and women in Christ, through whose atoning grace all who make full surrender are clothed with the robe of His righteousness. He took the position that every soul who would be saved must have a genuine, personal experience in the things of God."—Ibid., p. 388.
"The apostle saw that if these believers in Galatia were saved from the dangerous influences which threatened them, the most decisive measures must be taken, the sharpest warnings given."—Ibid., p. 387.
"Redemption in Christ means to cease the transgression of the law of God and to be free from every sin; no heart that is stirred with enmity against the law of God is in harmony with Christ, who suffered on Calvary to vindicate and exalt the law before the universe."—Faith and Works, p. 95.
"[Christ's] gushing blood, His broken body, satisfy the claims of the broken law, and thus He bridges the gulf which sin has made. He suffered in the flesh that with His bruised and broken body He might cover the defenseless sinner. The victory gained at His death on Calvary broke forever the accusing power of Satan over the universe and silenced his charges that self-denial was impossible with God and therefore not essential in the human family."—God's Amazing Grace, p. 153.
"God desires that heaven's plan shall be carried out, and heaven's divine order and harmony prevail, in every family, in every church, in every institution. Did this love leaven society, we should see the outworking of noble principles in Christian refinement and courtesy, and in Christian charity toward the purchase of the blood of Christ. Spiritual transformation would be seen in all our families, in our institutions, in our churches. When this transformation takes place, these agencies will become instrumentalities by which God will impart heaven's light to the world and thus, through divine discipline and training, fit men and women for the society of heaven. Jesus has gone to prepare mansions for those who are preparing themselves through His love and grace, for the abodes of bliss."—Ibid., p. 250.
May the Lord help us to be among those to truly appreciate this privilege!
The General Conference Sabbath School Department