"Thy Kingdom Come"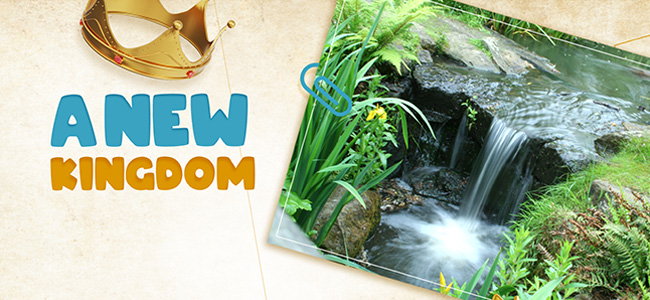 Children's Corner
A New Kingdom
We read in the Bible about kings and kingdoms from long ago. We hear in today's world about nations and the presidents and kings that lead them. We hear about people having problems and about people fighting against each other. These are true stories about real people. Maybe we wish that there would not be so many bad things going on, but sadly, they are.
But let's stop for a minute and picture another world. It is a true story about a real world that is coming soon—and we can be part of it!
Can you imagine a place with no pain, no crying, no sickness, no sadness? Where people don't kill or hurt each other or say mean, ugly things? Where nobody ever dies?
This is a real place; it really is! It's called the earth made new. Jesus is inviting you to be there!
Let's read about it. The apostle John saw it in a vision given by Christ: "And I saw a new heaven and a new earth: for the first heaven and the first earth were passed away; and there was no more sea. And I John saw the holy city, new Jerusalem, coming down from God out of heaven, prepared as a bride adorned for her husband. And I heard a great voice out of heaven saying, Behold, the tabernacle of God is with men, and he will dwell with them, and they shall be his people, and God himself shall be with them, and be their God. And God shall wipe away all tears from their eyes; and there shall be no more death, neither sorrow, nor crying, neither shall there be any more pain: for the former things are passed away. And he that sat upon the throne said, Behold, I make all things new. And he said unto me, Write: for these words are true and faithful" (Revelation 21:1–5).
This place is very, very beautiful!
"And the building of the wall of it was of jasper: and the city was pure gold, like unto clear glass. And the foundations of the wall of the city were garnished with all manner of precious stones. . . . And the twelve gates were twelve pearls; every several gate was of one pearl: and the street of the city was pure gold, as it were transparent glass. And I saw no temple therein: for the Lord God Almighty and the Lamb are the temple of it. And the city had no need of the sun, neither of the moon, to shine in it: for the glory of God did lighten it, and the Lamb is the light thereof" (Revelation 21:18, 19, 21–23).
The brightness of God, His Son Jesus and the Holy Spirit will make this a cheerful, happy place forever and ever. Do you want to be there? Then get ready—for "it is written, Eye hath not seen, nor ear heard, neither have entered into the heart of man, the things which God hath prepared for them that love him" (1 Corinthians 2:9). Everything will be more beautiful than anything you have ever seen and the music prettier than anything you have ever heard. The place is called the kingdom of God! Don't miss the chance to be there!—BHM.