The Gospel According to Paul: Romans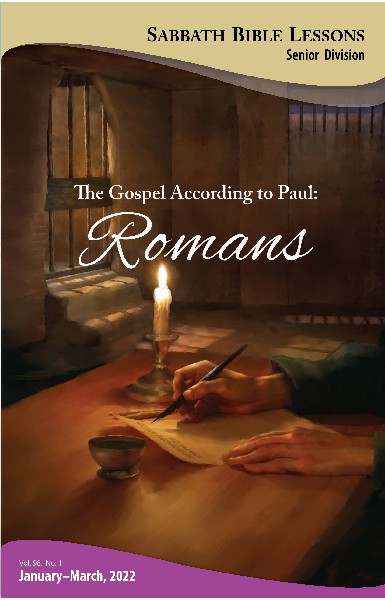 Foreword
The Sabbath school studies for this quarter are based on the epistle of Paul to the Christians living in Rome. Why is the study of this epistle so essential today?
"In his epistle to the Romans, Paul set forth the great principles of the gospel. He stated his position on the questions which were agitating the Jewish and the Gentile churches and showed that the hopes and promises which had once belonged especially to the Jews were now offered to the Gentiles also.
"With great clearness and power the apostle presented the doctrine of justification by faith in Christ. He hoped that other churches also might be helped by the instruction sent to the Christians at Rome; but how dimly could he foresee the far-reaching influence of his words! Through all the ages the great truth of justification by faith has stood as a mighty beacon to guide repentant sinners into the way of life. It was this light that scattered the darkness which enveloped Luther's mind and revealed to him the power of the blood of Christ to cleanse from sin. The same light has guided thousands of sin-burdened souls to the true Source of pardon and peace. For the epistle to the church at Rome, every Christian has reason to thank God."— The Acts of the Apostles, pp. 373, 374.
What has been the spiritual condition of the entire human race since the Fall? What is the purpose of God's moral law in the plan of salvation? What is our individual condition before God? What does faith have in our redemption? Are we justified by faith or by works? Is there any merit in faith? Is the law annulled by faith or is it confirmed? Can we overcome sin by our best efforts in keeping the law? What is the role of the Holy Spirit in the whole process of our regeneration? What should be our attitude before the civil authorities?
Martin Luther declared in his preface to the commentary he wrote about the book of Romans: "This epistle is in truth the chief part of the New Testament and the purest Gospel. It would be quite proper for a Christian, not only to know it by heart word for word, but also to study it daily, for it is the soul's daily bread. It can never be read or meditated too much and too well. The more thoroughly it is treated, the more precious it becomes, and the better it tastes."
No doubt, this epistle played a vital role in the Reformation of the 16th century. And now, as part of the final movement of Reformation, we need a clear understanding of this "most precious message"(Testimonies to Ministers, p. 91).
May the Lord richly bless all teachers and students of this precious message!
The General Conference Sabbath School Department