Lessons From the Book of Joshua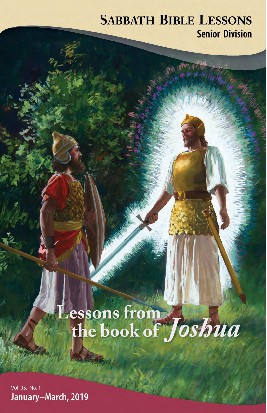 Foreword
How close are we to the brink of eternity? This information has not been entrusted to mortal flesh, yet most of us would agree that the final events of this world's history are fast approaching—that the second coming of Jesus in power and glory is even at the door. For this reason, Sabbath school students around the world will be considering Lessons From the Book of Joshua. As God's faithful servant was entrusted with leading a people into earthly Canaan, so we are about to enter the heavenly Canaan.
"The history of the children of Israel is written for our admonition and instruction upon whom the ends of the world are come. Those who would stand firm in the faith in these last days, and finally gain an entrance into the heavenly Canaan, must listen to the words of warning spoken by Jesus Christ to the Israelites. These lessons were given to the church in the wilderness to be studied and heeded by God's people throughout their generations forever. The experience of the people of God in the wilderness will be the experience of His people in this age."—The Upward Look, p. 232.
"Through His people Israel, God designed to give to the world a knowledge of His will. His promises and threatenings, His instructions and reproofs, the wonderful manifestations of His power among them, in blessings for obedience, and judgment for transgression and apostasy,—all were designed for the education and development of religious principle among the people of God until the close of time. Therefore, it is important that we acquaint ourselves with the history of the Hebrew host, and ponder with care the dealings of God with them."—The SDA Bible Commentary [E. G. White Comments], vol. 2, p. 994.
"Religion in the days of Moses and Joshua was the same as religion today."—Ibid.
"God's laws and kingdom were to extend over all the territory of the earth, and His people must be known as the people of the living God. . . .
"His people would never know defeat if they would abide under the shadow of the Almighty; for One mightier than angels would fight by their side in every battle."—Ibid., p. 999.
"There must be continual faith and trust in the Captain of our salvation. We must obey His orders. The walls of Jericho came down as a result of obeying orders."—The Review and Herald, July 12, 1887.
May the Lord help us to take these lessons to heart as we diligently prepare for entrance into the heavenly Canaan, graciously led through the sacrifice and strength of the mighty Captain of our salvation, the Lord Jesus Christ!
The General Conference Sabbath School Department