Run for Your Life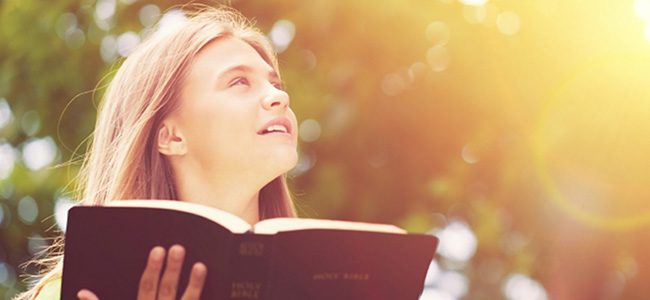 Children's Corner
Faith for the Fearful
When bad things are going on, it's natural for a person or animal to want to run away. Today, it seems there are so many bad things everywhere, that nearly everyone is scared.
But we can't go around feeling scared all the time! Yes, we need to be careful against all the bad things that happen, but we should not live every day as if we were a frightened cat.
In Proverbs 22:13, we read: "The slothful man saith, There is a lion without, I shall be slain in the streets." In other words, a lazy man who doesn't feel like working makes up an excuse that there is a lion outside, so he needs to stay in. But we need to be stronger and braver than that!
Yes, there are many bad people out there, but God gives us a promise if we will trust in Him and be faithful to His Word: "Be strong and of a good courage, fear not, nor be afraid of them: for the Lord thy God, he it is that doth go with thee; he will not fail thee, nor forsake thee" (Deuteronomy 31:6).
God is more powerful than anyone or anything else in the whole universe! If we have Jesus in our hearts, we are told, "greater is he that is in you, than he that is in the world" (1 John 4:4). How can we claim this promise? By trusting God and obeying His Word. "I will hear what God the Lord will speak: for he will speak peace unto his people, and to his saints: but let them not turn again to folly" (Psalm 85:8). Do we want God to speak peace toward us? For sure! His mighty arm will protect us and His great power will give us strength for whatever we need to do.
But what does it mean to turn again to folly? That means going back to doing wrong things that we may have done in the past. If we want God's blessing, we need to stay close to Him by prayer and study of His Word. Even if we have gotten into trouble by doing something bad, the Lord is willing to forgive us, cleanse us and make us new. But He doesn't want us to go back to doing bad things. He's willing to give us strength to obey if we just ask Him!
"Only the sense of God's presence can banish the fear that, for the timid child, would make life a burden. Let him fix in his memory the promise, 'The angel of the Lord encampeth round about them that fear Him, and delivereth them.' Psalm 34:7. Let him read that wonderful story of Elisha in the mountain city, and, between him and the hosts of armed foemen, a mighty encircling band of heavenly angels. Let him read how to Peter, in prison and condemned to death, God's angel appeared; how, past the armed guards, the massive doors and great iron gateway with their bolts and bars, the angel led God's servant forth in safety. Let him read of that scene on the sea, when the tempest-tossed soldiers and seamen, worn with labor and watching and long fasting, Paul the prisoner, on his way to trial and execution, spoke those grand words of courage and hope: 'Be of good cheer: for there shall be no loss of any man's life among you. . . . For there stood by me this night the angel of God, whose I am, and whom I serve, saying, Fear not, Paul; thou must be brought before Caesar: and, lo, God hath given thee all them that sail with thee.' " Education, pp. 255, 256.
"What time I am afraid, I will trust in thee. In God I will praise his word, in God I have put my trust; I will not fear what flesh can do unto me" (Psalm 56:3, 4). "The very hairs of your head are all numbered. Fear ye not therefore, ye are of more value than many sparrows" (Matthew 10:30, 31).—BHM.