The Gospel According to Paul: Corinthians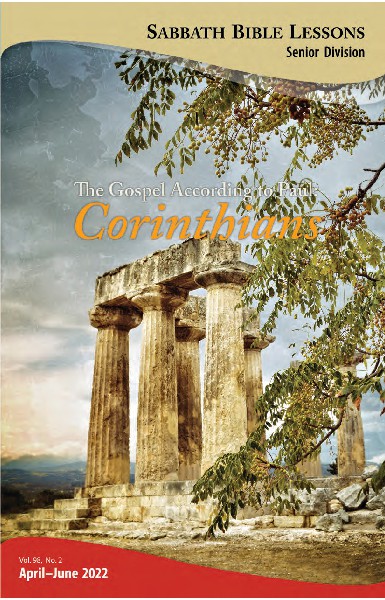 Foreword
During this quarter, Sabbath school students throughout the world will be studying about the gospel according to the apostle Paul as revealed in his epistles to the Corinthians.
At times, Paul labored alone in his missionary journeys. Following his visit to Athens, around the year A.D. 51, he arrived in Corinth, the prosperous center of government and trade for the Roman province of Achaia. This bustling city was then five times larger than Athens. Its crowded streets were teeming with Greeks, Jews, Romans, and travelers eagerly intent on business and pleasure, with little thought or care beyond the affairs of the present life. The city was almost entirely given up to idolatry, especially of sensuous pleasures.
While in this city of strangers, Paul supported himself by manual labor, lest any might misrepresent his motives in preaching the gospel. There he met two Christian believers, Aquila and Priscilla, fellow tentmakers with whom he abode (Acts 18:1–3). He worked all day and taught by night "and he reasoned in the synagogue every sabbath, and persuaded the Jews and the Greeks" (Acts 18:4).
What kind of reasoning did Paul use to win souls in Corinth? In Athens, he had used elaborate arguments with logic and science to appeal to the intellectual minds of that sophisticated center of art and learning—yet without as much effect as he would have liked. So, in contrast, explaining his approach to the Corinthians he testified: "And I, brethren, when I came to you, came not with excellency of speech or of wisdom, declaring unto you the testimony of God. For I determined not to know any thing among you, save Jesus Christ, and him crucified. And I was with you in weakness, and in fear, and in much trembling. And my speech and my preaching was not with enticing words of man's wisdom, but in demonstration of the Spirit and of power: that your faith should not stand in the wisdom of men, but in the power of God" (1 Corinthians 2:1–5).
Why would this topic be helpful for us today? Interestingly, the philosophies and lifestyle of Corinth bear great resemblance to those permeating our society. Are not people today "lovers of their own selves . . . lovers of pleasures more than lovers of God; having a form of godliness, but denying the power thereof" (2 Timothy 3:2, 4, 5)? In Corinth, habits and customs from Greek culture permeated the thinking, and grossly immoral practices contrary to Judeo-Christian standards of behavior were rampant. The people needed to be educated and fully grounded in the pure, unadulterated truths of Christ and Him crucified—as we likewise all do today.
With these thoughts in mind, it is our prayer that Sabbath school students everywhere will be fortified and blessed by the study of these vital lessons!
The General Conference Sabbath School Department